As the title of this post suggests, I received my orders today. Kindly they bundled them together in one. It did take a bit of time for my new year order to be sorted but a kit on there had a 15 day delivery period and then two other items didn't turn up from their supplier which they kindly refunded me for.
I've got to say when I got that tracking text, I loved watching it go from Italy to Germany and then on to the UK. Anyway, enough waffling...

Lizzie Kate's Housework Never Killed Anyone...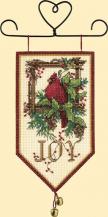 Dimension's Cardinal Joy kit:
I love that you can get some of Heritage's designs as just charts rather than the kit.

Watercolours: Tower Bridge

Watercolours: Westminster

Dimensions' Sailor Bear

Disney Dreams Pillow

Riolis' Zebras in the Savannah.
I actually bought this kit on sale for 12.38€ it is normally 26.76€ however it is more expensive at Hobbycraft at £30...I'm amazed that they don't see how they are losing out by not looking at the competition.
I also bought 2 charts for a friend and 2 pieces of fabric however I can't remember what I had in mind for the 28ct evenweave that I ordered. Does that happen to anyone else?
I'm very pleased with my experience with
Casa Cenina
, it may have taken a while but I have no reason to complain as I have more than enough stitching to be getting on with and I chose not to have the immediately available items to be shipped ahead.
I'm now on a self-imposed stash ban, please slap my hand away if you see it go anywhere near a checkout button.